While we showed you how to create a new Google account from scratch so that you can take advantage of Google's apps and services, there may be those who wish to set up an account using their existing email address without being forced to sign up for Gmail. If this is you, we'll show you how it's done.
Step One – Filling in your details
Navigate to https://www.google.com/accounts/NewAccount and complete the form in its entirety. To use your existing email address, simply select "I prefer to use my current email address" from below the email box. When you are finished, click "Next step" to proceed to the account verification.

Step Two – Activation & Verification
After completing the previous step, you will be brought to this screen:

Check your inbox for your account activation email. It should look similar to the one below. Simply click the verification link to confirm your identity and activate your account.

Step Three – Finishing Up
After clicking the activation link, you will be brought to this screen where you can add a profile image to simply proceed by clicking "Next step".

Next, you will receive a little welcome message from Google (yay!). Click "Get started" to begin making changes to your account.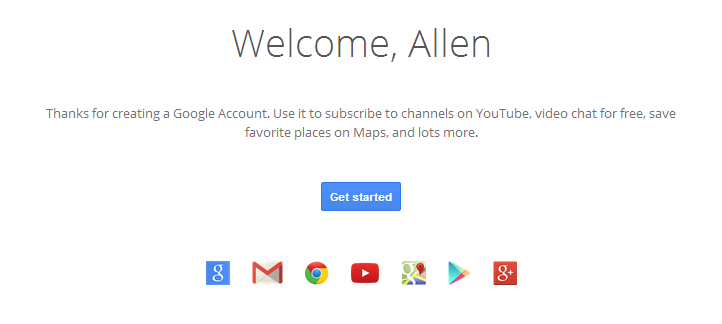 This is your account dashboard where you can update your account settings and make modifications to your profile.

Step Four – Start Using Google's Apps & Services!