Whether you're starting a new business or looking to revamp your image, our design team will help you portray the true identity of your company through professionally designed logos. View our logo design portfolio to see how we have helped businesses in various industries with their logo designs. Ready to get started? Choose your logo design package or call us today at 866.421.3723 for a FREE consultation!
Which package is right for you?
Need a low-budget, high quality logo? If you have a specific look in mind or need to get your logo redesigned then our Bronze Package is perfect for you!
Our Silver Package is ideal for a top-quality professional logo at an affordable cost. If you have some ideas but need help to bring them to life, this is exactly what you need!
If you started a new business or just want to get a whole lot of creative ideas for your logo, our Gold Package is what you are looking for!
Compare Available Packages
Bronze, Silver, and Gold logo packages are available to choose based on your needs.
See How It Works
So you know which package you're going to choose, click below to see what the process is going to look like.
Get Started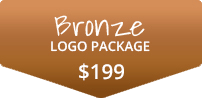 Logo Concepts
2 (1 of 3 Variations Shown)
3 (1 of 3 Variations Shown)
4 (1 of 3 Variations Shown)
Selected Logo Revisions
4 Permitted
5 Permitted
6 Permitted
Options Shown In
2 Working Days
3 Working Days
4 Working Days
Not only do you get what is stated above, but with each package you will also get the final logo optimized for the web and source files sent to you in EPS or AI formats, full color and grayscale logo images sent to you as JPEG and transparent PNG files, and you will have 100% final logo ownership.
How it works…
We are committed to delivering the best possible logo solution to our clients specific needs while remaining inline with the logo design package that they have chosen. We will take you through a step by step process to ensure that you get the logo that best represents you and your brand. Take a look below to see what you can expect during the design process.
1Select Logo Package
Being by viewing our bronze, silver, and gold packages and choosing one that will best suit your needs.
2Consultation
Complete our creative brief and/or a phone consultation to help us better understand your business and your vision.
3View Original Concepts
View original logo concepts which you will receive within the amount of days specified in the package you chose.
4View Revisions
After viewing original concepts let us know what changes you would like to see and we will send you revisions in a timely manner.
5Color & Font Options
After narrowing it down to a design you like, we will show you some different color and font options.
6Final Logo Design
Approve a logo design and receive the final logo in the formats specified in the package you chose.